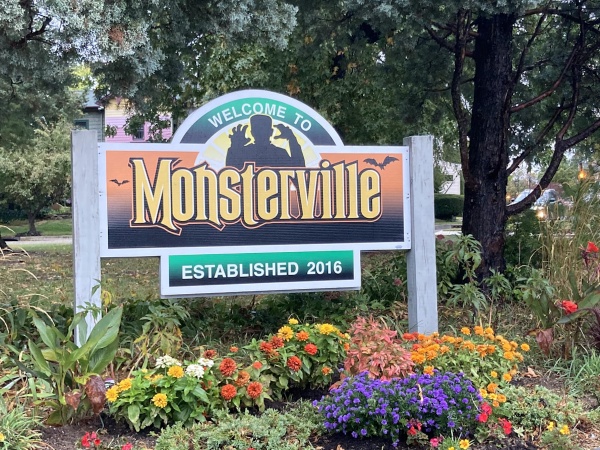 One more time for the ghouls in the back! Monsterville arrives TODAY!
Follow us
for a month of haunts, hayrides and Halloween in South Jersey's Halloween destination: Merchantville. Here's the line-up. On Friday evenings, October 7th, 14th, 21st and 28th from 5:00-9:00 p.m. enjoy pumpkins and spice, haunted story hours and hocus-pocus at
Merchantville's Market Off Centre
. They'll have alternating craft and artisan vendors in addition to a couple local farms and some of our downtown shops! Keep and eye out for entertainment, craft and activity announcements and more event highlights as Monsterville unfolds!The
Merchantville Monster Crafts & Fine Art Festival
is coming to downtown Merchantville on Saturday and Sunday, October 15th and 16th. SJ Festivals is excited to bring a two-day juried Crafts and Fine Art Festival Merchantville as it transforms itself during the month of October from into Monsterville! Be-witched by students from Merchantville School's 8th grade class on Friday and Saturday, October 21st and 22nd at their annual Haunted House. 
The Haunts of Merchantville Hayrides
 take place on Friday and Saturday, October 28th and 29th, taking off from the Triangle on East Park Ave from 7:00-9:00 p.m. Take a tour of the town aboard Merchantville's Haunted Hayride and view the 2022 entries of the Haunts of Merchantville home decorating contest. Then cast your vote for the winner, who will receive the coveted Golden Broomstick? Work of those candy treats on Saturday morning, October 29th,  at the
Monsterville's 5K Zombie Run
 then, stroll by 
Aradia's Mystery and Magical Street Fair
 hosting psychics and vendors of holistic, new age, mystical and select handmade products. And ... don't forget to check each day to see if a bite of Halloween
"You've been BOOed!"
cheer has been left at your front door. Finally, Monsterville goes out with a bang on Sunday, October 31st, hosting a SPOOK-tacular evening of Trick-or-Treating for all the witches and goblins around town!
Read 599 times
Last modified on 10/03/2022