Celebrating Business Diversity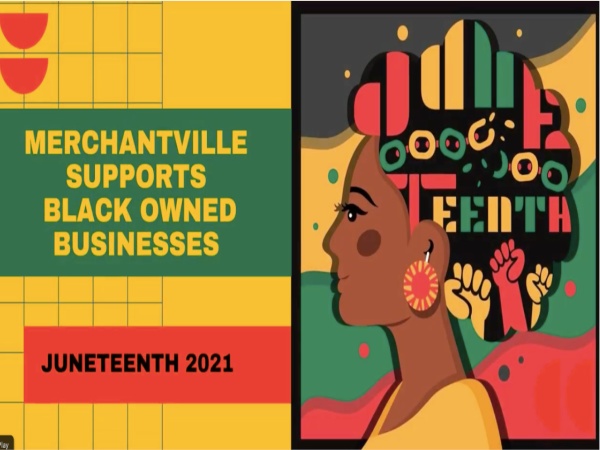 This
#Juneteenth
the Merchantville Diversity Committee is celebrating our community's black own businesses. Join us by enjoying some of the amazing cuisine, goods, and services offered by our wonderful black business owners.
Two 28 Eight
 is a boutique salon located at 728 West Maple Ave. and specializes in textured hair services.
Rasta Kitchen
, at 618 West Maple Ave. offers Jamaican cuisine with a twist. Need a fresh cut? Book an appointment at
EZ Cutz Barber Shop
, owned by Jazz Wilson, 614 West Maple Ave. Do you have care needs for a loved one? 
R.E.A.C.H. Homecare Agency
, 223 North Centre St. is a privately own Home Care agency dedicated to providing medical and non-medical services 24/7. Essence Fitness Studio empowers this community of diverse people exercise and training options for getting healthy every day. Stop in for the Wine & Cheese events this weekend at
CUB & Co.
, 23 North Centre St., your place for unique tees, accessories and much more. Looking for cold-pressed juice and lunchtime favs including some yummy vegan options? 
The Juice Bar 
is the place to go at 22 South Centre St. Top off your meal with dessert at
Cat's Creations
, a bakery offering wholesome and trendy treats, 23 South Centre St.
A Milli Little Things
 is a small business, at 19 South Centre Street, creating all natural homemade bath and body products.
Harpers Barber Shop
, located at 13 West Park Avenue., offers haircuts and more to tame your mane in a shop with a great atmosphere where people of all ages are welcome. Plan your Bae-cations, Bridal Parties, Birthdays, Kid-Free weekends, Girls Night at 
Hey Nikki
, 20 South Centre St., where you'll find a great selection of lingerie for all occasions. Find some old and new thrift shop bargains at 
Queen Esther's Treasures
, located at 29 West Park Ave.
The Station Coffee
, 10 East Chestnut Ave. in Merchantville, offers an abundance of activities, events and edibles from morning 'til night for kids and adults. And, many other black entrepreneurs - like
Tray and MAC CBD
or
Zumba Fitt with Ivori
, can be found in spaces at Ryans Retail, 22 North Centre St.
Read 1295 times
Last modified on 06/26/2021