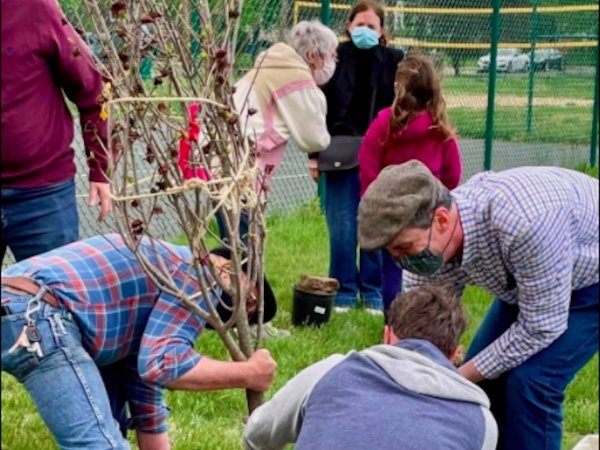 Merchantville Organic Community Garden
now has three native fruiting Paw Paw trees thanks to a generous donation from the Merchantville Observer and collaboration between Merchantville's
 Shade Tree Commission
,
Green Team
and 
Incredible Edible
. Thanks to a great group of volunteers from town: 
George Aaron,
Lynn and Steve Geddes, 
Monica Tully,
Anna and 
Joe Bouvier, 
Kerry and
Tim Mentzer,
Greg Hample, 
Jim Murray,
Bob Murray,
Dorothy, Joe and Pat Foley, Cindy
 Hertneck, 
Denise Menzel,
Nina Scarpa, Alice Diamond, and Ed Bohn. 
IE Merchantville
 member, Brigid Austin, planted four immature Paw Paws three weeks ago in Wellwood Park along Hamilton Avenue. This is the group's first "understory tree" project.
Paw Paws
will grow from 12 to 25 feet tall and will produce fruit in 2-6 years.
Read 608 times
Last modified on 05/17/2021