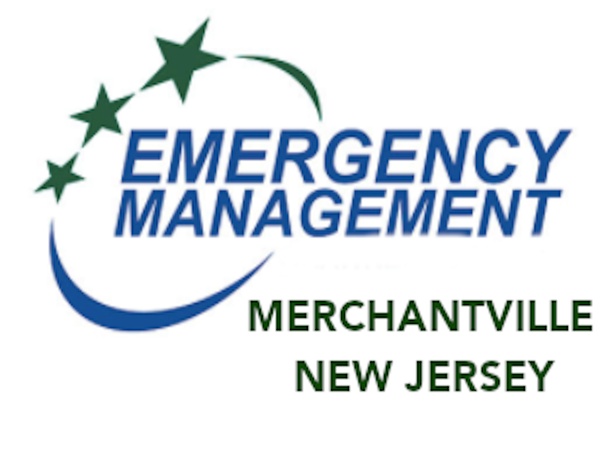 Councilman Sean Fitzgerald convened a meeting for those involved with the Merchantville Office of Emergency Management and coordinating entities via video conference on Thursday evening to share information and synchronize efforts moving forward. JP Beauchamp from OEM spoke about working with the County and emergency preparations to obtain PPE (Personal Protective Equipment) for our first responders and equipping an EOC (Emergency Operations Center) which will open as a Level 3 center from 8:30 a.m. - 5:00 p.m. in the basement of the Community Center if required. He has reviewed the school lunch distribution program developed by Scott Strong and requested that a pdf on basic hand washing/covid-19 symptoms be attached to each brown bag.
Department of Health member, Joan Brennan, is monitoring several sites for information and statistics including the CDC, NJDOH Dashboard, PA DOH Alerts, County Department of Health & Human Services and Kinsa Health/Weather Mapping. She noted that Merchantville has several websites and social media outlets where we can push out information from national/state/county/municipal outlets and virtual meetings/town halls/messages and asked asked about identifying potential cluster housing hotspots like Chestnut Station, Greenleigh Court and Wellwood Manor to determine who is coordinating their preparation efforts. Mayor Brennan stated that Denise Brouse, borough clerk, has been in touch with Chestnut Station an a plan is in place and handouts have been provided. He also mentioned that the Camden County Mayors Association is promoting the importance of the senior food program and community volunteers are welcome.
Police Chief Rich Grassia spoke on changes to central dispatch communications including screening incoming calls with inquiries about recent out of country travel and flu like symptoms. He noted that police are not entering buildings unless necessary when answering calls. The Police Chief Association keeps them current on the number of positive cases in Camden County and is working on ways to better inform police about pockets of contagion. Their info share system will red flag call situations with a Covid-19 tag (cautionary flag). Chief Grassia reported that town residents appear to be heeding warnings because there have been no walk-ups at the Boro Hall police station and no large gatherings noted.The chief and detective are at the police department every day and night shift rotate through to cover the buildings.
Fire Chief Kevin Patti discussed the status of fire, code and public works. The Merchantville Fire Department is restricted to members only, temperature screening is done upon arrival and response modifications with EMS have been made. Merchantville and Pennsauken have established a joint 14 day quarantine space if needed and right now all members healthy. All fire/housing inspections have been canceled but, they continue to complete resale CO inspections and handle minor complaints. Public Works still active and are ready to maintain trash removal in case something happens with our municipal provider, Gold Medal. They have been sanitizing doorknobs twice a day and the phone pad outside the police station can be added.
Mayor Brennan reported that the Mayors Association had decided that individual municipal emergency declarations provided no additional value or power beyond the County declaration so, 37 municipalities agreed to piggy back on the county. Mayor Brennan doesn't anticipate he will have to put a municipal declaration in place but, we have it if needed. Mayor Brennan was very appreciative of the level of coordination and communication among municipal OEM stakeholder groups and feels we are as prepared as we can be. We hope to avoid a major situation so, the more days we go without cases the better off we will be in 14-16 days. Unless an earlier meeting is necessary the next meeting will take place on Wednesday, 3/26/20 @ 8:00 p.m.
Read 807 times
Last modified on 03/22/2020