Burt German honored by Mayor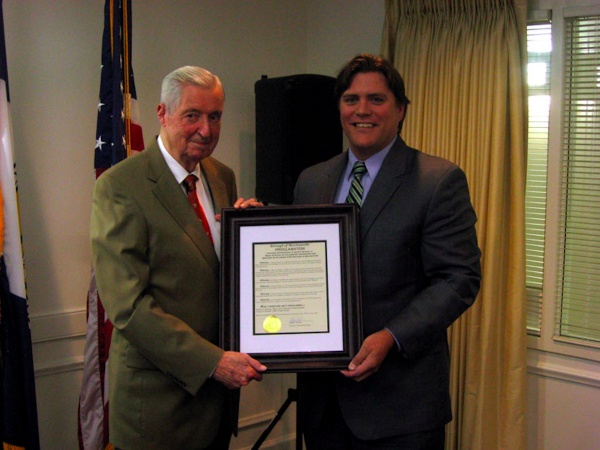 Mayor Ted Brennan recently honored long time resident, Burt German, for his 60 plus years of service to the Merchantville community with a framed proclamation. Burt, who has served our community as a Borough councillor, Borough fire commissioner and fire chief of Merchantville's Niagra Fire Company, was just sworn in for his 9th term as a commissioner for the MPWC (Merchantville-Pennsauken Water Commission).
Burt is also a very familiar face to many at Woodbine Swim Club and NJ swimming organizations. He was the 2007 winner of the NFHS Officials Association Citation Award - an award given to those whose contributions have had an impact on high school activity and athletic programs at the local and state levels. He has been chair of the NJ State Interscholastic Athletic Association State Swimming Committee since 1995, and is past president of the NJ Swimming Officials Association and the South Jersey Swim Officials Association. The annual Tri-County Swim Meet is named in his honor.
Read 668 times
Last modified on 04/15/2019