AC Rail Line to resume service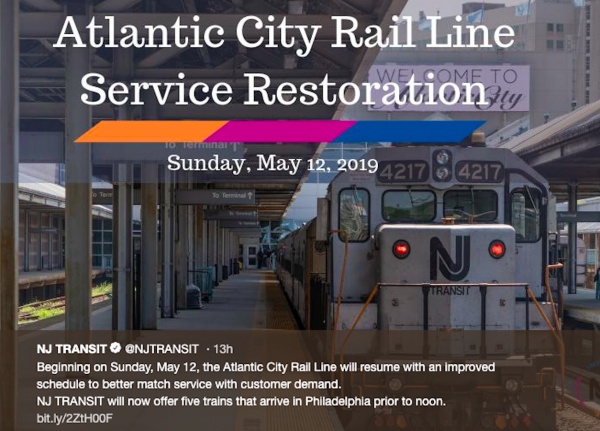 Beginning on Sunday, May 12, Atlantic City Rail Line (ACRL) and Princeton Branch (Dinky) services will resume. For printable Atlantic City Rail Line and Dinky schedules, click HERE. NJ TRANSIT has accelerated the restoration of services, and the new date is nearly two weeks ahead of the agency's target date and fulfills the commitment to have these services operating prior to Memorial Day weekend. As part of an effort to provide more reliable and frequent service for Atlantic City area commuters, the ACRL will resume with an improved schedule to better match service with customer demand.
In response to customer feedback gained through NJ TRANSIT's listening tour and enhanced customer focus, the new schedule includes an adjustment to a weekday a.m. peak period roundtrip which fills a gap in arrivals at Philadelphia 30th St. Station during the morning rush hour. The Agency will now offer five trains that arrive in Philadelphia prior to noon, up from three, and reduce wait times between trains to a maximum of two hours throughout the service day. Similar adjustments have been made to the weekend schedule.